• don't be talkin • march • newfoundland
To be quite honest, the only NCAA basketball I've watched are clips of Carl English that CBC plays in their features on the local star. So ours is a different sort of "March Madness"--a different featured item on our website each week this month!  For this first week, we're featuring our Don't Be Talkin' Unisex Tee. We went with something green in case you're shopping for a St. Paddy's piece that you can wear year-round. (And with plenty time to get it before the 17th). Bonus: It's $10 off now until the end of the week! This is, without a...
---
• crewnecks • figgyduff dory • newfoundland • winter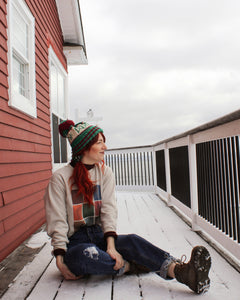 Winter is here, but have no fear--Spring starts next month! Not that that means anything here in NL. We'll be wearing sweaters until July. So, we're here to keep you all cozy and toasty until then. Grab your snowshoes, or a book, or a nice hot cup of coffee, (or whatever helps you deal with winter), and let's get to it.  Leggings Look This one's my everyday look, haha. Leggings, a comfy sweater, and warm socks. And, well, how fitting is our Weather's Not Fit Crewneck?! It's basically how I feel every time my phone buzzes with yet ANOTHER weather...